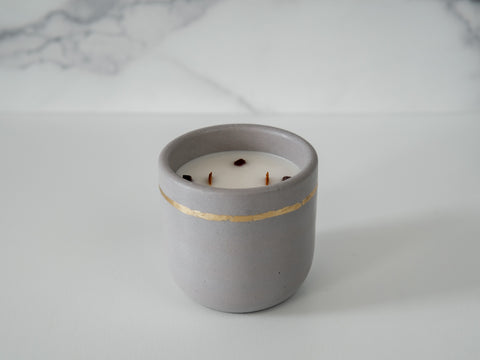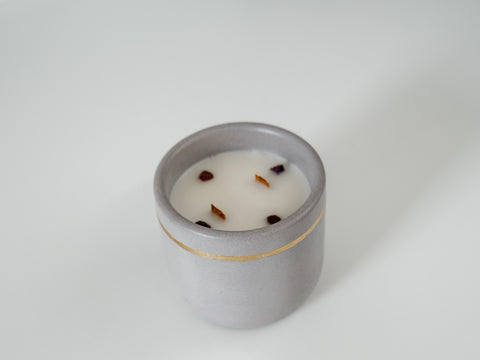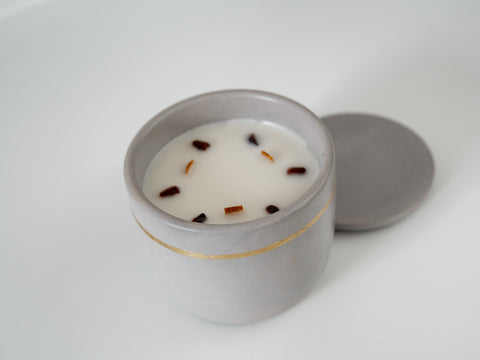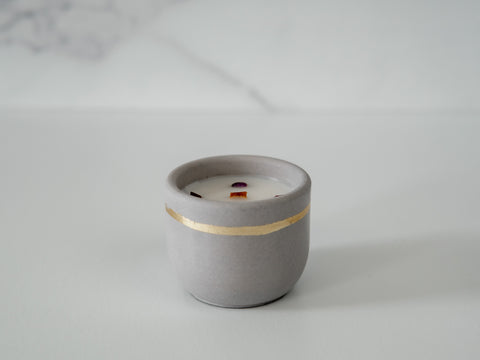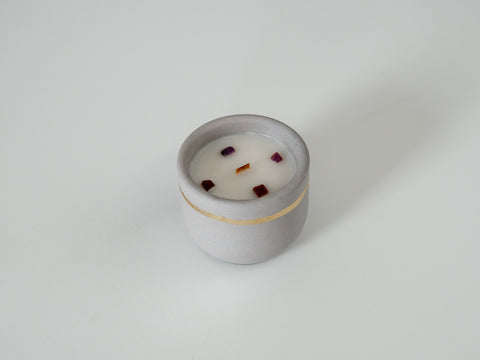 Elixir
rich, sweet + earthy, elixir will intrigue your senses as it is infused with a mystique blend of fresh, floral notes complemented by warm, spicy layers. indulge in its seductive aroma as it promotes an atmosphere for love + healing. elixir will unfold like a captivating story, with each layer creating an environment for curiosity + deeper connection. 
the candle wax is blended with a gold natural stone mineral, which when lit creates a shimmering + radiant effect. the design for the handmade concrete vessel is inspired by the japanese art of kintsugi. the gold leaf application is intended to promote the radical acceptance + warm embrace of imperfections. 
note profile
top: bergamot, geranium
middle: rose, violet, raspberry
base: saffron, leather, vetiver
about our candle
wax: virgin coconut soy 
topping: ruby
wick: FSC certified natural, crackling wood wicks
about our vessels
each concrete vessel is poured, pigmented, and crafted by hand through a slow and intentional process. the beauty of this process is that each vessel has its own character and individuality. we hope that you enjoy your individual concrete vessel as much as we do, because it is uniquely yours.
sizes: 18 oz | 9 oz | 2 oz
burn time: 80+ hours | 40+ hours | 10+ hours
A Magical Experience
This candle is absolutely incredible, I have never had a candle experience quite like this one. The scent is so rich and unique. There is so much depth in this candle, the earthy notes combined with the spicy and floral notes come together beautifully in the burn. It smells so familiar yet I have never smelled anything quite like it at the same time. This scent makes me imagine that I'm in a magical, mystical forest. It is such a clean yet mysterious scent that I think so many people can enjoy. The earthy warmth is also a great scent for the fall. The gold shimmer in the wax really elevates the candle experience. Watching the wax melt and turn into beautiful specs of glimmer is so captivating and creates an ethereal multi-sensory experience. This candle smells divine and is so well curated, I will definitely recommend to my friends!