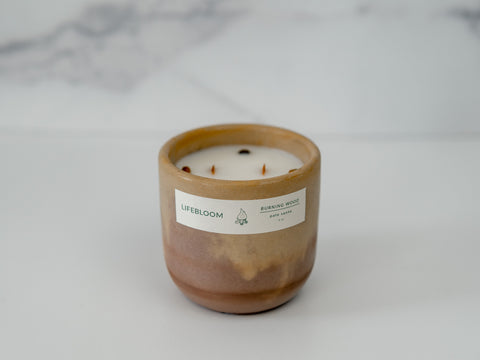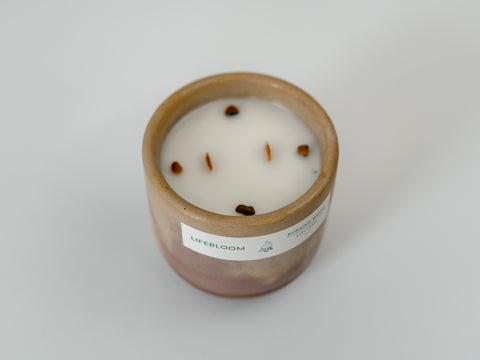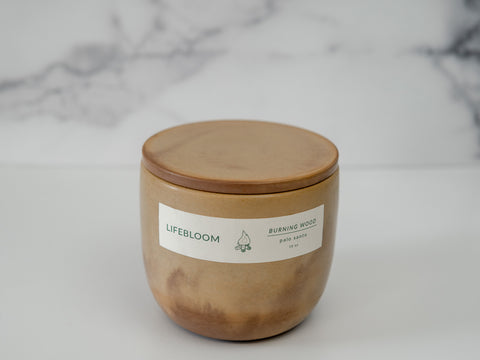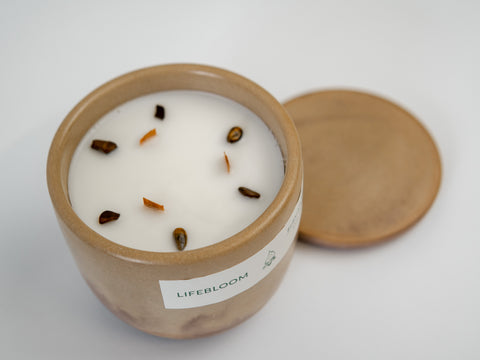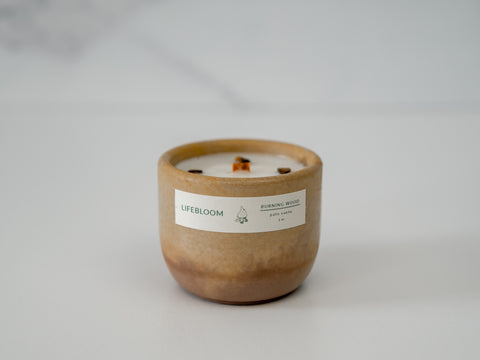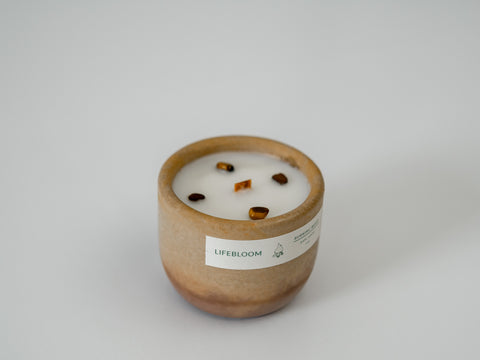 Burning Wood
woodsy, bright + clean, burning wood embodies the healing essence of the palo santo tree. as palo santo is traditionally burned as an energy cleanser, this candle creates a sense of calm - easing any stress + pain through its powerful purification properties. 
burning wood is one part of a three part series of the waterfire candle collection; a commentary on the inherent feminine + masculine energies in nature.
burning wood carries active energy through the natural element of fire + a deep spiritual connectivity to the root chakra. this energy is grounding + amplifies our connection with mother earth. choose burning wood to bring nature's gift of balance + strength into your home. 

note profile
top: citrus, cardamom
middle: saffron, violet, palo santo
base: amber, sandalwood, wood, smoke
about our candle
wax: virgin coconut soy 
topping: tiger's eye crystals
wick: FSC certified natural, crackling wood wicks
about our vessels
each concrete vessel is poured, pigmented, and crafted by hand through a slow and intentional process. the beauty of this process is that each vessel has its own character and individuality. we hope that you enjoy your individual concrete vessel as much as we do, because it is uniquely yours.
sizes: 18 oz | 9 oz | 2 oz

burn time: 80+ hours | 40+ hours | 8+ hours
Amazing Smell!
This candle has such a delightful smell that fills the room quickly!
Beautiful smell, but sooty burn!
PROS: The scent is fantastic, and lingers softly in the room for hours (even a day) after extinguishing. I first used it while hosting a gathering, and I got endless compliments!
CONS: Despite following the care instructions to a T (wick trimming, etc), the candle developed an abnormally large amount of soot/debris within the wax. I think this may have been from the wood wicks; if I get another candle, I would try a traditional wick. The soot in the candle is both unsightly and makes me a bit worried for respiratory health when I burn it.
Exactly what I had been looking for!
I had been aware of palo santo for years, but I had never purchased any product with that scent - until I stumbled upon lifebloom. I now understand the why behind the hype!! I intend on purchasing another Burning Wood as soon as I finish burning my current candle!
Smells amazing
Love their candles! The smell is amazing and I love that you can reuse the container
Wonderful!
We purchased this as a gift for a family member after getting a few candles at the pop up in Seaport. Smells amazing, burns so nicely and the vessel is perfect for repurposing.