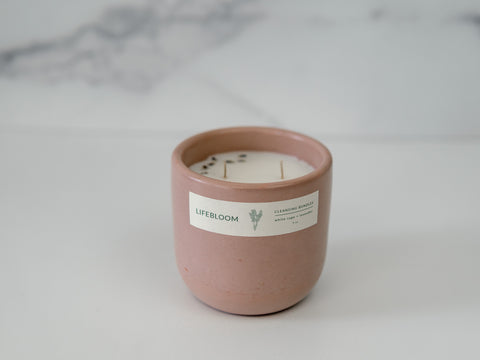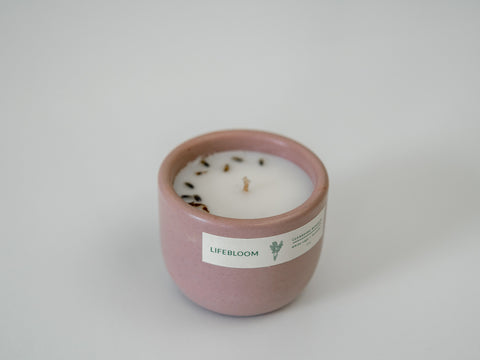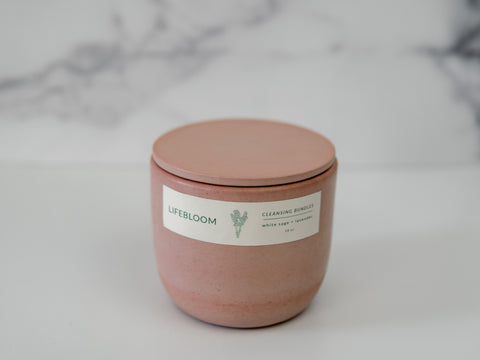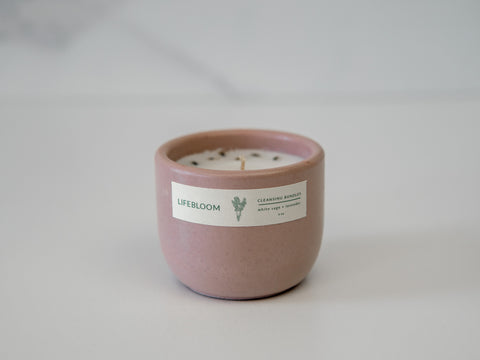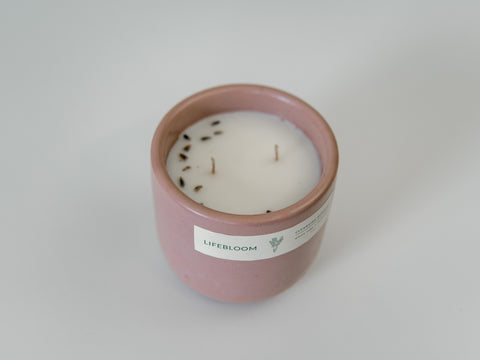 Cleansing Bundles
when you light cleansing bundles, you will slowly become surrounded and protected by the calming and cleansing notes of lavender and white sage. these scents emulate the energy of serene herbs and purifying shrubs of the earth. we top each candle with dried purple lavender and white sage leaves sourced from nature to create a holistic purification experience every time you burn your candle. choose cleansing bundles because you deserve to wind down and cleanse the mind each day.
note profile
top: lavender
middle: camphor, chamomile, sage, rosemary
base: sandalwood, cedarwood
about our candle
wax: virgin coconut soy 
topping: dried lavender
wick: 100% cotton wick
about our vessels
each concrete vessel is poured, pigmented, and crafted by hand through a slow and intentional process. the beauty of this process is that each vessel has its own character and individuality. we hope that you enjoy your individual concrete vessel as much as we do, because it is uniquely yours.
sizes: 18 oz | 9 oz | 2 oz

burn time: 80+ hours | 40+ hours | 8+ hours
Wonderful purchase!
Love the cleansing bundles scent! Perfect cozy scent as the leaves start changing. Light fresh smell that fills the room without overpowering the nose. Vessel is beautiful and smooth and the color is beautiful!
Looooove!
We received our candle soon after we ordered it...and my family looooves the smell! It's soothing, calming...and not overpowering at all. I enjoy scent in my home...but a soft, relaxing addition to our life. The smell for the cleansing bundle is soft, comforting and unique. Feel like I lucked out finding these candles at the start of the cold weather. My husband also commented on the wonderful smell. We will light our candle frequently and order more LIFEBLOOM candles...for us, our friends and friends too! Thank you!!!
Love the candle!
The pieces of lavender at the edges was a great touch. Love the aroma and will buy again.