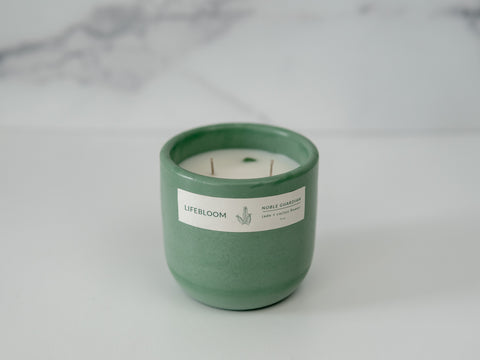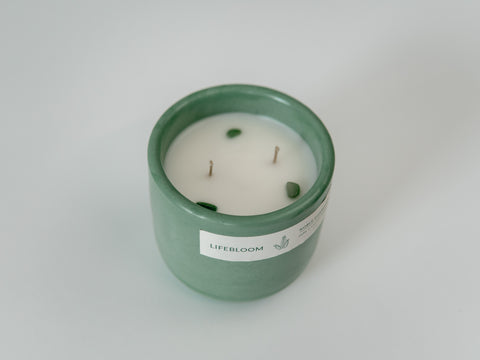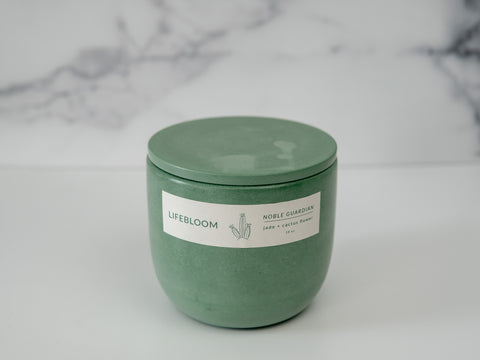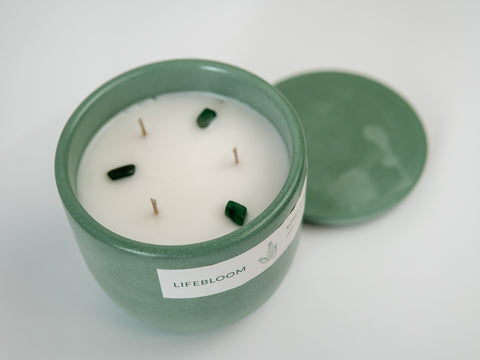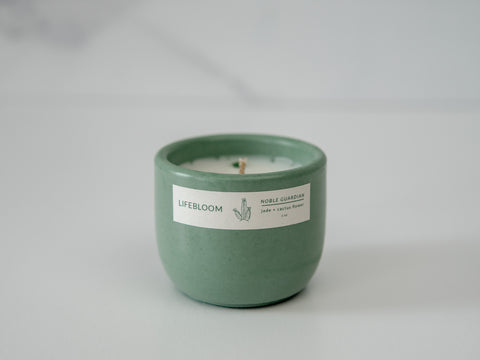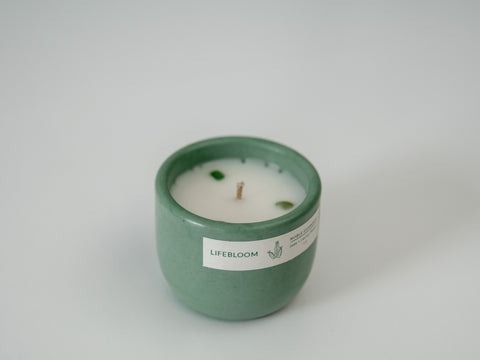 Noble Guardian
awaken your senses with the fresh and floral fragrances of noble guardian. the serenity of jade and the unconditional love of cactus flower burst through protective, earthy layers with brightness and warmth. we top each candle with genuine and natural nephrite jade stones to enhance the experience of wisdom and tranquility. choose noble guardian because it will protect you from harm and remind you of your inner strength.
note profile
top: agave, aloe
middle: chrysanthemum, green floral, green leaves
base: patchouli
about our candle
wax: virgin coconut soy 
topping: a++ nephrite jade
wick: 100% cotton wick
about our vessels

each concrete vessel is poured, pigmented, and crafted by hand through a slow and intentional process. the beauty of this process is that each vessel has its own character and individuality. we hope that you enjoy your individual concrete vessel as much as we do, because it is uniquely yours.
sizes: 18 oz | 9 oz | 2 oz

burn time: 80+ hours | 40+ hours | 8+ hours
Smells Beautiful
Smells great, is so pretty, and I can tell it will last a while. Its scent it strong enough to smell it, but not so much that is is overpowering.
I also had a slight issue with my candle and Life Bloom Customer service was so great and helped me out. Overall a great local brand to support, and wonderful smelling candle.
Green without being grassy, Fresh without being detergent
I bought this candle at the December 2022 Snowport holiday mart based on the smell. But I've been fooled before by candles that smell amazing unburnt and then smell differently or likely nothing at all when burning. Not this one! It has excellent throw without being overwhelming, and the smell is well balanced. "Fresh and floral" is a good description, with the floral notes not overly sweet which is my preference. Additionally, I really appreciate having two wicks. I wrapped it in aluminum foil for the first burn to avoid tunneling, but I probably didn't have to. Overall, an entirely satisfying purchase.
Calming and well scented
The candle is well scented, not to strong or artificial smelling. It has a fresh, very pleasant smell. I had given up on candles due to all the toxins but I think I'll be able to enjoy them again!
So Cute!
Perfect size for gift boxes!
My favorite candle!
I am a big candle person and this is hands down my favorite candle I've ever owned. It burns so nicely and makes my whole apartment smell amazing, but is not at all overwhelming. I love that the vessel is hand made & reusable and I can't wait to own more lifebloom candles and give them as gifts!