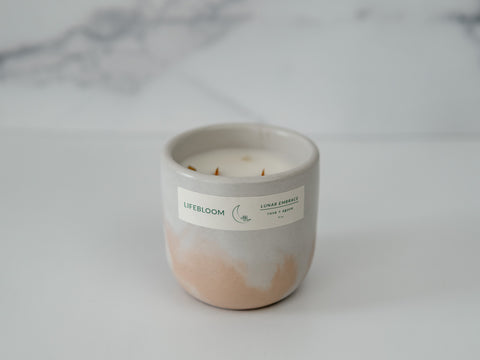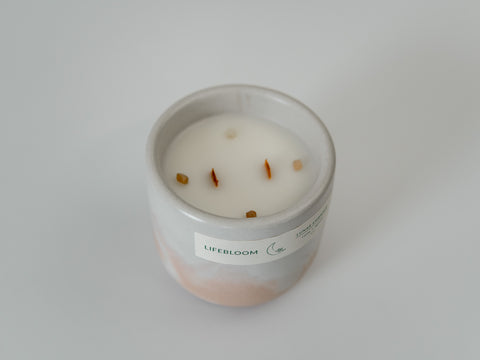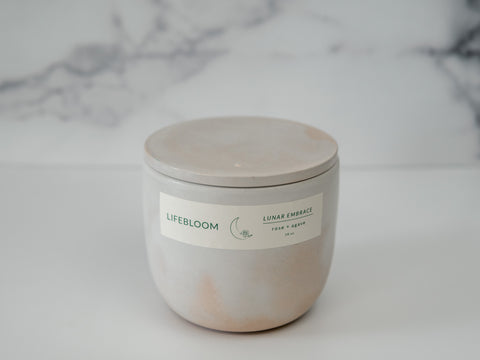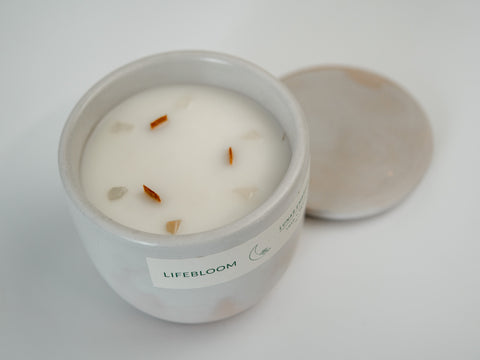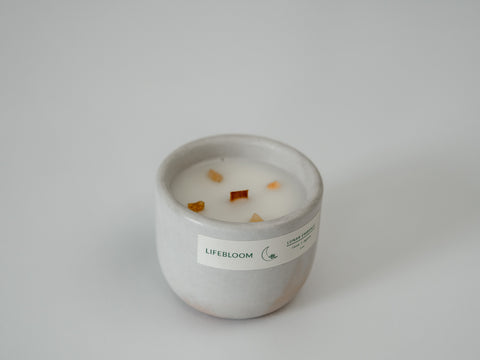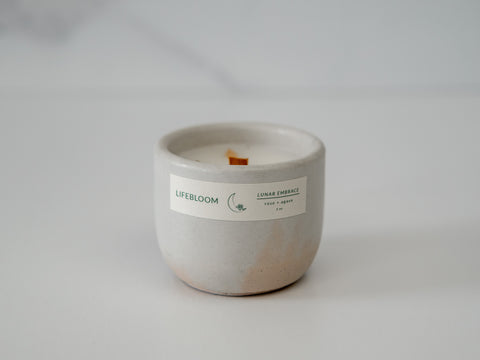 Lunar Embrace
sweet, sultry + juicy, lunar embrace is a dynamic combination of soft, celestial floral + fruity notes. with prominent notes of rose + agave, lunar embrace will wrap you in empathic love toward yourself + others. this candle will cultivate the activation of your creativity + inherent intuitive power - returning you to a place of health + rhythm. 
lunar embrace is one part of a three part series of the waterfire candle collection; a commentary on the inherent feminine + masculine energies in nature.
lunar embrace carries receptive energy through the natural element of water - creating a boundless flow of acceptance + healing. this energy allows for a return to an acute sense of control + calm. choose lunar embrace to bring a gentle, deep love into your home.  

note profile
middle: rose, marine, cherry blossom
base: powder, dark musk, amber
about our candle
wax: virgin coconut soy 
topping: moonstone crystals
wick: FSC certified natural, crackling wood wicks
about our vessels
each concrete vessel is poured, pigmented, and crafted by hand through a slow and intentional process. the beauty of this process is that each vessel has its own character and individuality. we hope that you enjoy your individual concrete vessel as much as we do, because it is uniquely yours.
sizes: 18 oz | 9 oz | 2 oz

burn time: 80+ hours | 40+ hours | 8+ hours
My Favorite Lifebloom!
The scent is decadent and it burns well with the double wick. I have had the pleasure of owning five Lifebloom candles, and Lunar Embrace is my absolute favorite of all of them––which says a lot given that every Lifebloom candle as been a gem ♥️
Love this scent, and company!
Really fantastic candle, you can immediately smell it with the 3 wicks. The scent itself is also really lovely, and I love the values of the brand!
Love Lunar Embrace and Parting Clouds!
I stopped into the store in the Seaport while visiting Boston. The aesthetic, scents, and employee were all great and very nice. I bought the Lunar embrace, parting clouds, and jade cactus candle. I typically don't buy rose scents, but I changed my mind when I smelt the lunar embrace. It is a wonderful scent and not overpowering. Makes my house smell amazing! I used my entire candle in a week I like it that much. I will definitely be purchasing more and buying the parting clouds as a Mother's Day gift.