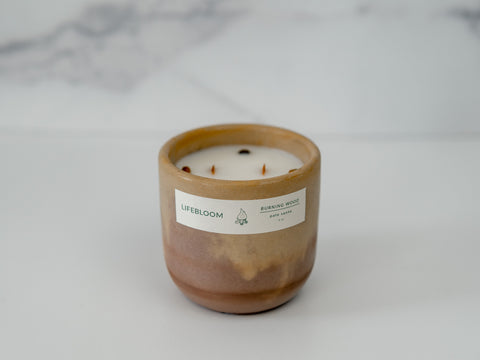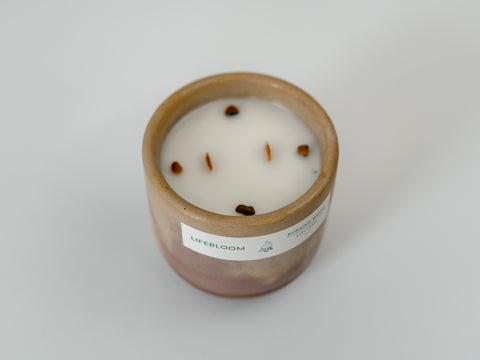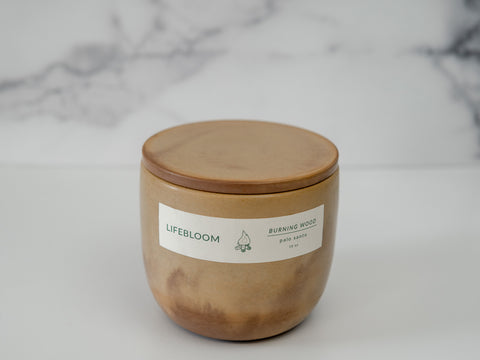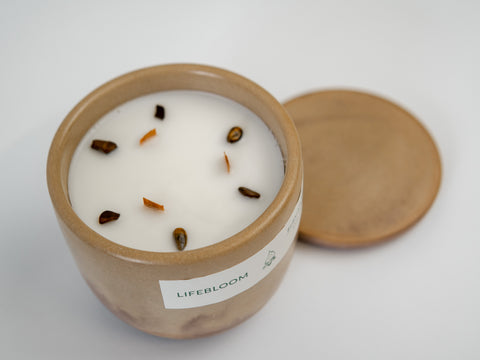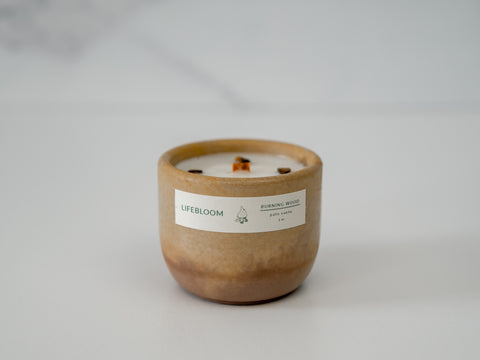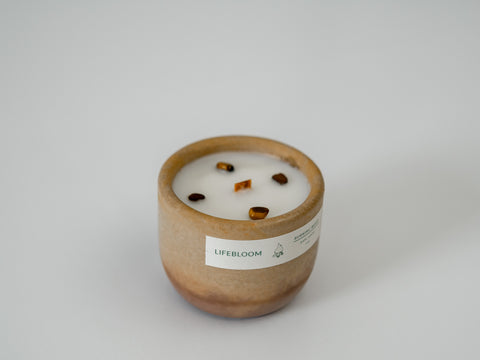 Burning Wood
woodsy, bright + clean, burning wood embodies the healing essence of the palo santo tree. as palo santo is traditionally burned as an energy cleanser, this candle creates a sense of calm - easing any stress + pain through its powerful purification properties. 
burning wood is one part of a three part series of the waterfire candle collection; a commentary on the inherent feminine + masculine energies in nature.
burning wood carries active energy through the natural element of fire + a deep spiritual connectivity to the root chakra. this energy is grounding + amplifies our connection with mother earth. choose burning wood to bring nature's gift of balance + strength into your home. 

note profile
top: citrus, cardamom
middle: saffron, violet, palo santo
base: amber, sandalwood, wood, smoke
about our candle
wax: virgin coconut soy 
topping: tiger's eye crystals
wick: FSC certified natural, crackling wood wicks
about our vessels
each concrete vessel is poured, pigmented, and crafted by hand through a slow and intentional process. the beauty of this process is that each vessel has its own character and individuality. we hope that you enjoy your individual concrete vessel as much as we do, because it is uniquely yours.
sizes: 18 oz | 9 oz | 2 oz

burn time: 80+ hours | 40+ hours | 10+ hours
Burning Wood Candle
Subtle and calming Palo Alto scent! Not too strong once it's lit. The vessel shape and color are beautiful and easily fit into a space. Love to learn about the natural ingredients that are used here versus other brands.
Love this candle!
This candle makes my house smell fantastic, it creates a calm vibe, and lasts so long!
Amazing Smell!
This candle has such a delightful smell that fills the room quickly!
Exactly what I had been looking for!
I had been aware of palo santo for years, but I had never purchased any product with that scent - until I stumbled upon lifebloom. I now understand the why behind the hype!! I intend on purchasing another Burning Wood as soon as I finish burning my current candle!