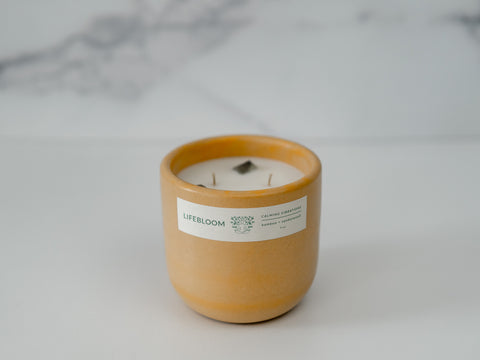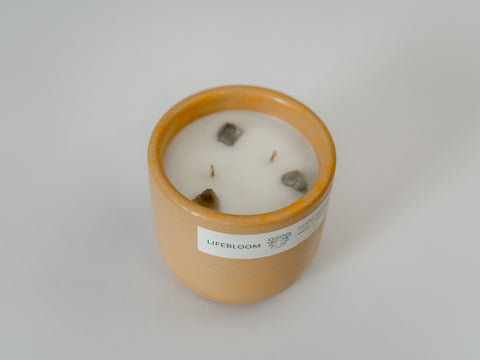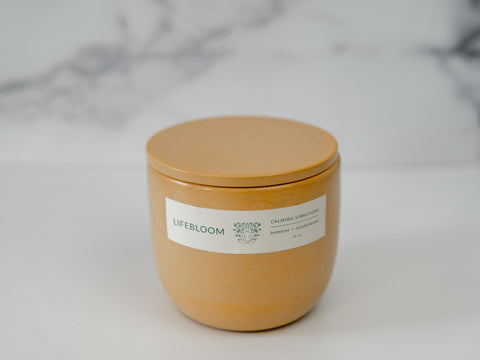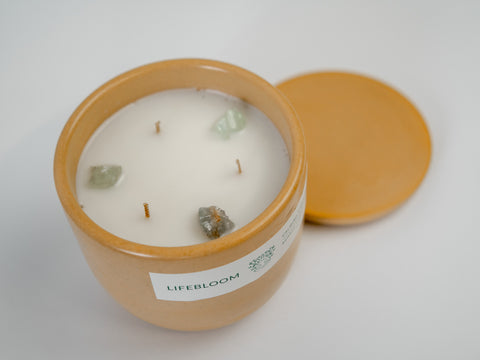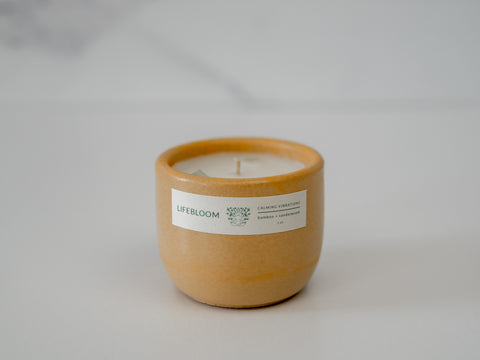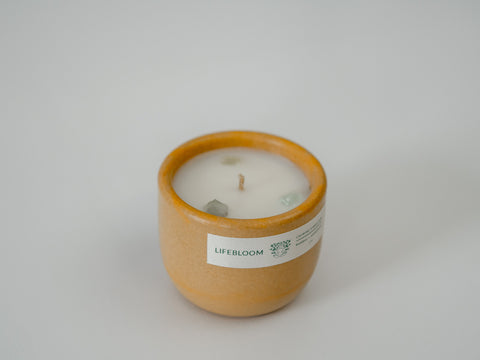 Calming Vibrations
sophisticated, relaxing + clean, calming vibrations is a unique blend of earthy + woody notes that will inspire you to pause + breathe deeply. this candle brings flexible harmony through the strength of the bamboo + pure energy through the healing power of sandalwood. choose calming vibrations to find your center at home. 
note profile

top: coriander, cantaloupe, lime, aloe
middle: amyris, bamboo, green leaves
base: dark musk, amber, sandalwood, moss, chrysanthemum 
about our candle
wax: virgin coconut soy 
topping: raw green calcite
wick: 100% cotton wick
about our vessels

each concrete vessel is poured, pigmented, and crafted by hand through a slow and intentional process. the beauty of this process is that each vessel has its own character and individuality. we hope that you enjoy your individual concrete vessel as much as we do, because it is uniquely yours.
sizes: 18 oz | 9 oz | 2 oz

burn time: 80+ hours | 40+ hours | 8+ hours
Best home scent
This is my go-to home scent, I've never been able to find a scent that I want all year round, but this one is it for me, multiple people that have come over have commented on how good it smells!
AMAZING
I was lucky enough to stumble upon this shop while in Boston but if you're not local and aren't sure if you should buy a candle online without smelling it, TRUST ME this candle smells incredible and just go ahead and buy it already!!! I got a medium one while in Boston and once I got home and started burning it I ordered a large size!
Imagination vacation
Bought the candle as a gift for my sister. I loved it so much I almost kept it for myself. The packaging is so thoughtful, I love that it comes with directions. The smell takes you on an vacation whether it's seaside or a spa day. I will definitely be grabbing one for myself!!
Nice and smooth
I love this candle. It's is nice and smooth, not too overwhelming. The jar is beautiful 👍🏼👍🏼