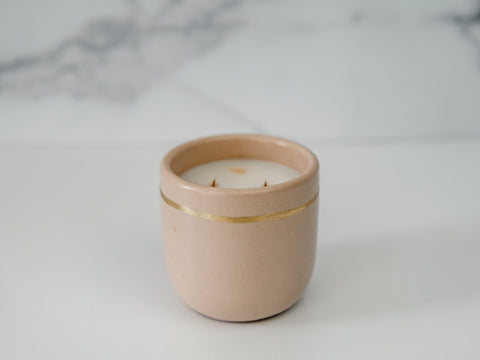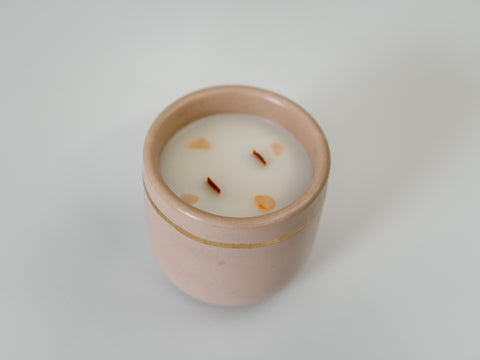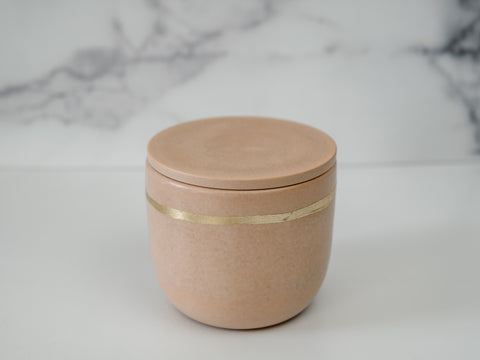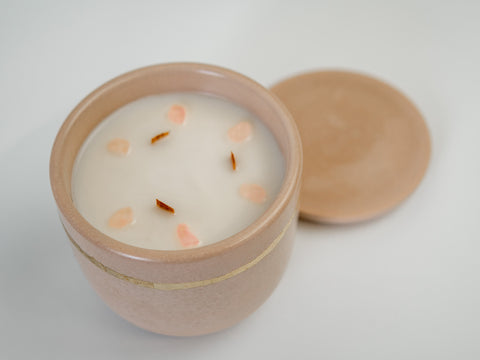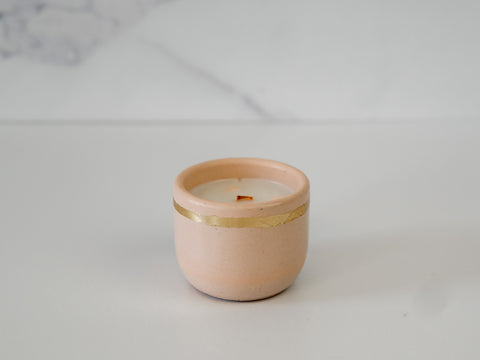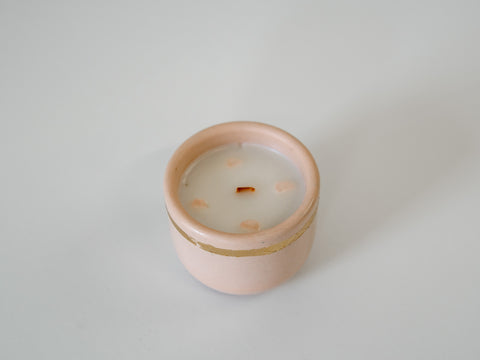 Euphoria
alluring, luscious + earthy, euphoria will transport you into a state of bliss with its intricate, mysterious blend of woody + musky notes. aromas of rich, oozy amber will return you to your warmest memories. euphoria creates a delightful ambience, much like being wrapped in a soft, luxe blanket while enjoying life's simplest pleasures.
the candle wax is blended with a gold natural stone mineral, which when lit creates a shimmering + radiant effect. the design for the handmade concrete vessel is inspired by the japanese art of kintsugi. the gold leaf application is intended to promote the radical acceptance + warm embrace of imperfections. 
note profile
top: ozone, jasmine, citrus
middle: tonka bean, patchouli, sandalwood, leather, benzoin
base: powder, light musk, dark musk, amber, cedar
about our candle
wax: virgin coconut soy 
topping: rose quartz
wick: FSC certified natural, crackling wood wicks
about our vessels
each concrete vessel is poured, pigmented, and crafted by hand through a slow and intentional process. the beauty of this process is that each vessel has its own character and individuality. we hope that you enjoy your individual concrete vessel as much as we do, because it is uniquely yours.
sizes: 18 oz | 9 oz | 2 oz

burn time: 80+ hours | 40+ hours | 10+ hours
Amazing product and friendly staff! I love this company and will be making future orders!
Euphoria
5+ stars.. I am loving all your candle scents but my favorite is Euphoria.. the scent with the shimmering gold and light crackling noises from the wooded wicks are the perfect combination for relaxation. I truly love your candles. Also great idea on making the holder reusable for something else. My mom and I met you both when we were on vacation in Boston. What a wonderful couple you guys are... thank you from San antonio TX.
Beautiful scent and candle
Love love love these candles! They are beautiful and smell great.
New obsession
I am in love with this candle! it smells amazing, the wood wick gives off a lovely, relaxing crackle while it's lit and the shimmery wax is beautiful. I'm buying these as gifts for all my friends and family! My new favorite candle brand.
Beautiful candles and couple
My daughter and husbands were there recently and purchased some candles to take home to Texas. We came in your shop and so enjoyed meeting you both. Y'all are the sweetest couple. We bought the candle that has the gold in it for my other daughter that didn't get to come with us. She sent me a video of it burning and it is gorgeous. She said her entire family loved it. I bought me the little ones and love them. Now, my daughter that came with and I have to have our own. I wish I had bought one while I was there. But thankful y'all told me you ship! Lol
Blessings to you both from San Antonio and Hawley Texas