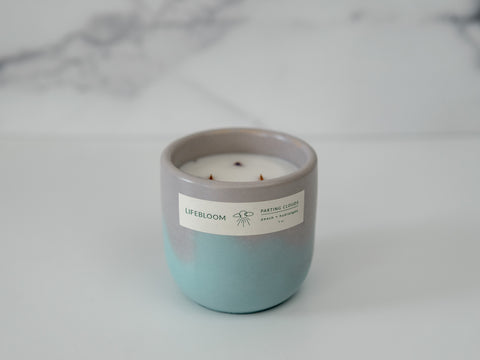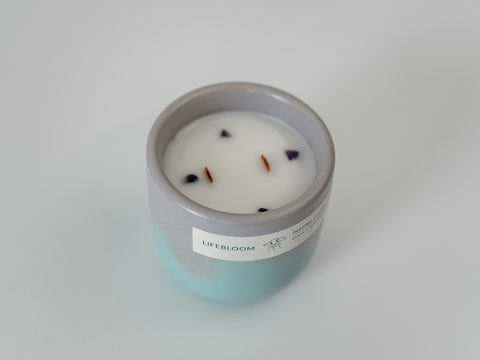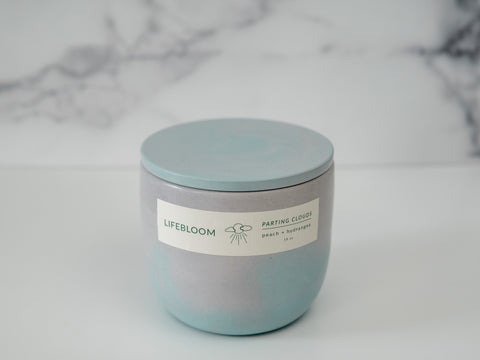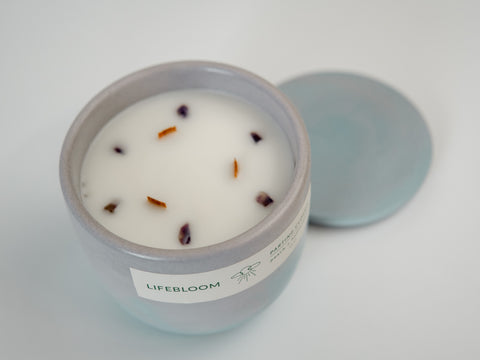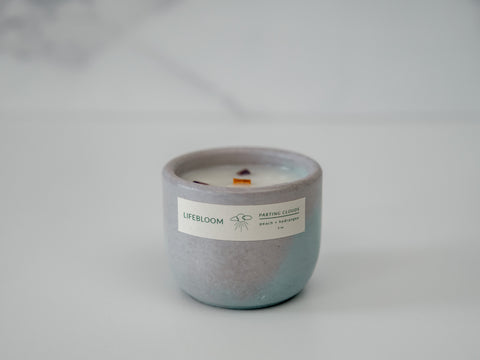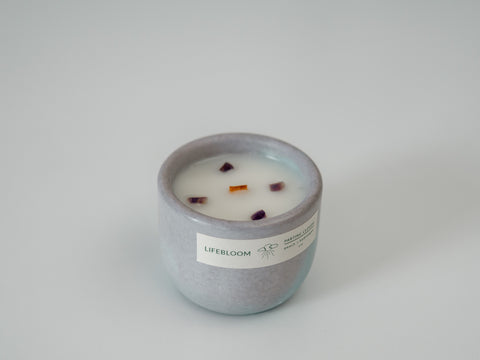 Parting Clouds
luscious, ripe + efflorescent, parting clouds is a complex balance of sweet + soft notes. the fruity + floral combination is perfectly curated to create a dreamy, sensual experience. this candle brings the sense of peace you feel after weathering a storm or obstacle + encapsulates you in a spell of that feeling - a feeling you may never want to leave. 
parting clouds is one part of a three part series of the waterfire candle collection; a commentary on the inherent feminine + masculine energies in nature.
parting clouds carries receptive energy through the natural element of water - creating a boundless flow of acceptance + healing. this energy allows for a return to an acute sense of control + calm. choose parting clouds to bring a gentle, deep love into your home. 
note profile
top:
 grapefruit, peach, apple
middle: cherry blossom, hydrangea
base: powder, vanilla
about our candle
wax: virgin coconut soy 
topping: amethyst crystals
wick: FSC certified natural, crackling wood wicks
about our vessels
each concrete vessel is poured, pigmented, and crafted by hand through a slow and intentional process. the beauty of this process is that each vessel has its own character and individuality. we hope that you enjoy your individual concrete vessel as much as we do, because it is uniquely yours.
sizes: 18 oz | 9 oz | 2 oz

burn time: 80+ hours | 40+ hours | 8+ hours
My Favorite Candle!
Parting Clouds is my favorite candle that I own! The scent is absolutely incredible, there is a beautiful vibrancy from the fruity and floral notes that fill up the room quickly without being overpowering. The scent feels very grounding, optimistic, and warm to me. It truly does remind me of the sensations when a storm passes: the parting clouds and changing skies, the bright scents of nature after the rain, and the feeling of relief and serenity. I truly feel like this is me in a candle, and I can't recommend it enough!
Love Parting Clouds!!
I have gifted this candle to over 5 different people. I love it and so does everybody that I have gifted it to. It's is the perfect spring/summer candle that makes you feel like your surrounded by beautiful flowers. Love the combo of peach and hydrangea!
Repeat purchase - many times over
I first bought Parting Clouds at a Holiday fair in RI. Smelled it at the stand and immediately bought one for myself and then minis for my MIL and SIL. Everyone LOVED it. I used up my mini so quickly because I burned it constantly. A few months ago I got the big one which has lasted a long time and now I'm getting a mini for my WFH desk.
The smell is divine, not too heavy (I'm prone to migraines), it's fresh, soft, and calming. Cannot recommend it enough!
I've tried others and they are great too, but this is by far my absolute fav. I actually threw away and recycled a bunch of candles I had cause I just stopped burning them. It's been this candle only for months now.
Wonderful fragrance!
Wonderful company & amazing candles. Love this fragrance!!!