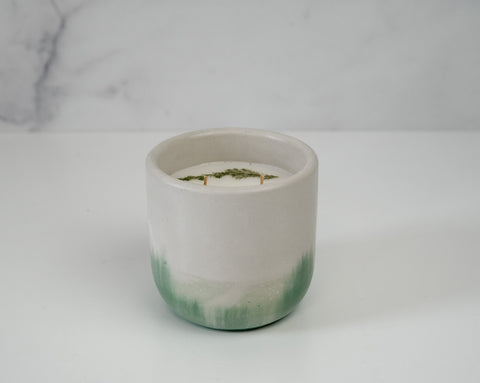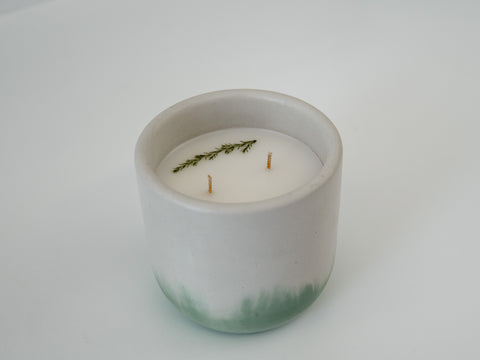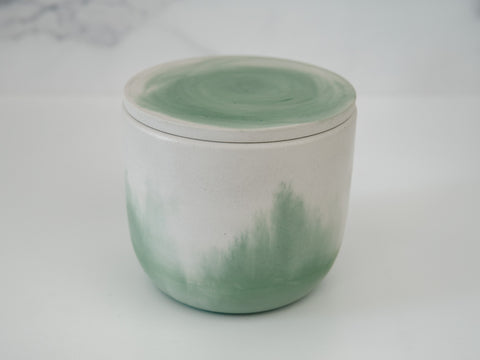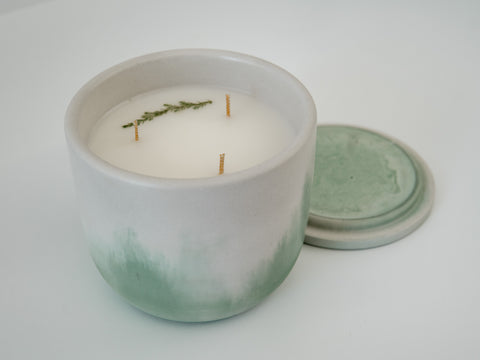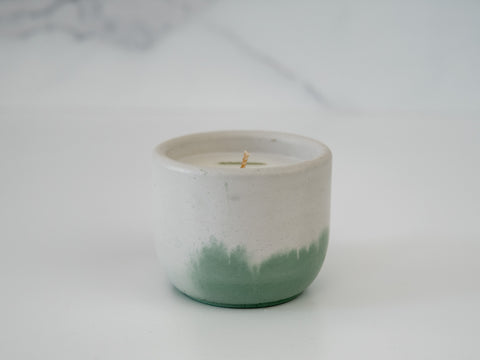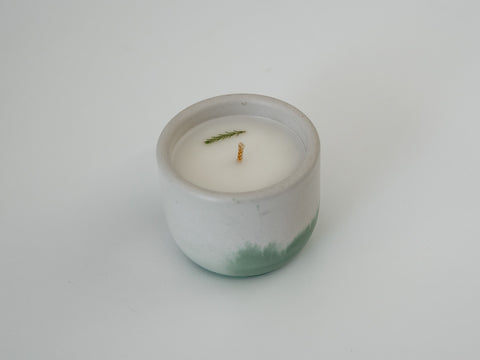 Snowy Forest
earthy, fresh, and woody, snowy forest will transport you to an expansive evergreen forest with its lively blend of bright + cooling notes. this candle will create an immersive experience of going for a winter hike through pristine, fresh foliage from the comfort of your own home.

note profile
top: eucalyptus, mint
middle: cypress, moss, bayberry, spruce, evergreen
base: incense, patchouli, fir, cedar, amber

about our candle
wax: virgin coconut soy 
topping: pressed cypress branch
wick: 100% cotton wick
about our vessels
each concrete vessel is poured, pigmented, and crafted by hand through a slow and intentional process. the beauty of this process is that each vessel has its own character and individuality. we hope that you enjoy your individual concrete vessel as much as we do, because it is uniquely yours.
sizes: 18 oz | 9 oz | 2 oz

burn time: 70+ hours | 35+ hours | 8+ hours
Smells amazing!!
I was looking for a new candle when I came across this one and I HAD to get it. It's the perfect scent for fall and winter!
A winter walk amongst the trees
Snowy forest reminds me of a quiet walk, along a snowy trail in the woods. Beautiful scents wafting through the air, surrounded by trees. Fresh. Clean. Serene.
Snowy Forest
Snowy Forest is more than just a candle, it's an experience! We love the excellent balance of cypress and fir with the subtle notes of bayberry. Truly brings you back to childhood Christmas ! All the materials are thoughtfully sourced and created with care. We will be a lifetime customer!
LOVE THESE CANDLES
I purchased a candle because I wanted to support a small business and the candles are VEGAN! They smell absolutely amazing, when they are lit and even when you have an unlit one near you. The containers are also beautiful and I love that I'll be able to repurpose them once my candles are done.
Snowy forest
I love it. It's beautiful