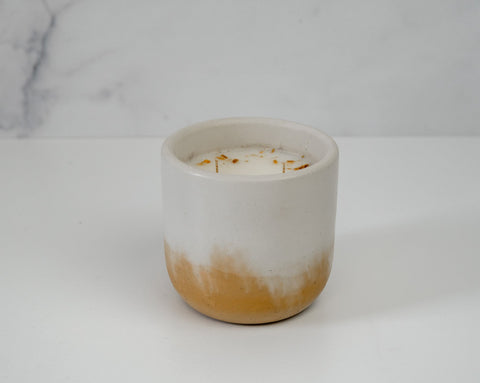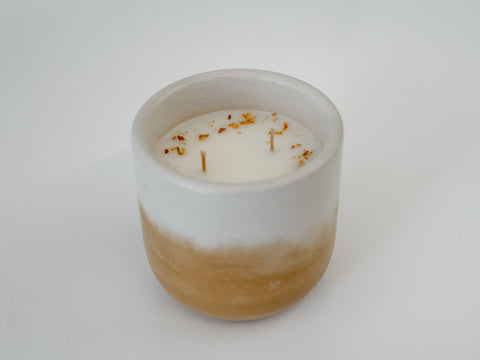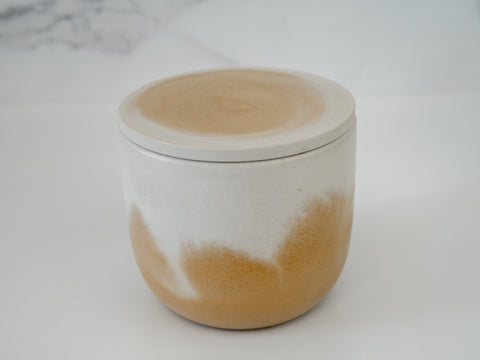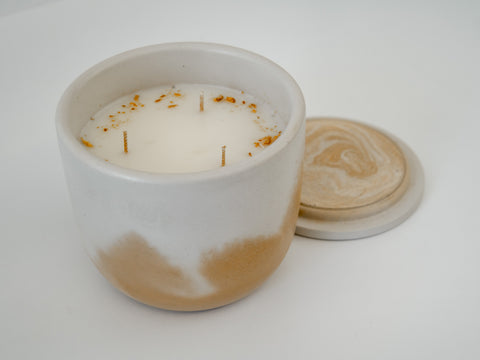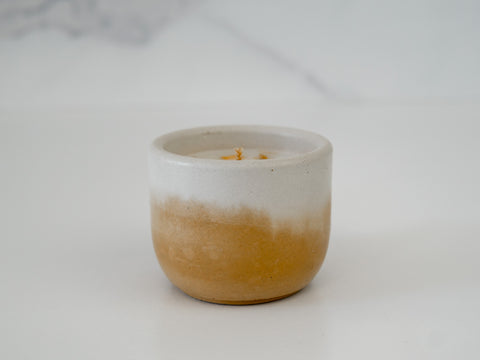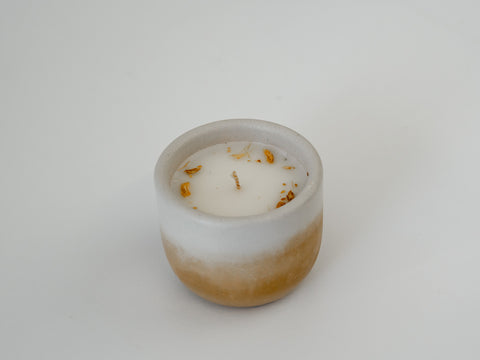 Spicy Wonderland
sweet, aromatic, + herbaceous, spicy wonderland comforts the soul with its citrusy + spicy notes. the diverse medley of blood orange, ginger + cinnamon is delectable, embodying the aromas of your favorite treat baking in the oven all season long. this candle will invite the sentimental warmth you feel when gathered with family + friends.
note profile

top: lemon, orange, grapefruit
middle: ginger, sugar, green leaves, lemon verbena, orange, lemon, mandarin, pomegranate
base: vanilla, cinnamon, clove, nutmeg, allspice, vetiver, cedar

about our candle

wax: virgin coconut soy 
topping: dehydrated ginger
wick: 100% cotton wick
about our vessels
each concrete vessel is poured, pigmented, and crafted by hand through a slow and intentional process. the beauty of this process is that each vessel has its own character and individuality. we hope that you enjoy your individual concrete vessel as much as we do, because it is uniquely yours.
sizes: 18 oz | 9 oz | 2 oz

burn time: 80+ hours | 40+ hours | 10+ hours
Spicy wonderland
The perfect candle for the holiday season! Fills the house with a warm cozy scent :)
Quietly Present
The aroma is divine! Fresh and subtle. I bought a small version of Spicy Wonderland at the Boston Public Market over Christmas and loved it. I've since replenished with the largest size. It is literally a breath of fresh air.
This candle is a dream
I've burned through two of these candles already in the last few weeks and I've gifted several additional ones. I think I'm addicted. The fragrance is relaxing and subtle and definitely puts me in the holiday mood. I highly recommend.
Love it!
The candle smells amazing and looks beautiful. It's usually burning in the background while I work giving me relaxing winter vibes.
The Best
Nice soothing scent to help clear your mind while you work, relax etc